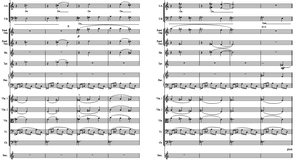 Philip is a composer for musical theater, film, television and instrumental music. His internationally-acclaimed show "TAP KIDS" for which he was co-creator has toured nationally and internationally for over a decade, and received a 5-star review at the Edinburgh Fringe Festival. His show "Scrooge: In Concert" played off-Broadway at the Lamb's Theatre NYC and Lincoln Center's Walter Reade Theatre, and has toured nationally. He has been commissioned to compose music for dance (Karen Kain, Gypsy Project NYC, Extended Dance Co., Off-Center Dance Company), orchestra (BMI Jazz Orchestra), classical ensembles (Hora Decima Brass), Nepean Symphony Orchestra, and has written and produced chart-topping instrumental music for saxophonist Michael Massaro under the production of Canadian producer Mel Shaw,  and harpist Sandra Fann under Time Life reecords. Philip was the go to composer for Canada's documentary guru, Rudy Buttignol, and penned music for multiple Gemini Award-winning television series, including The View From Here, Human Edge, Saturday Night at the Movies, Masterworks, Sunday Night at The Cinema, History, From the Heart and Vista. 
He is co-founder of New York Stage Originals and producer at the newly formed NYSO Records, record label of NY Stage Originals for which he composed, produced and mixed the new musical Stone Crossed released on Broadway records. www.nysorecords.com.  Stern has recorded with Broadway vocalists including Antonio Cipriano, Celia Rose Gooding, Telly Leung, Will Connolly, Elle McLemore, to name a few. 
He has been selected and participated in prestigious workshops for composers, including the ASCAP Film Scoring Workshop with Richard Bellis in Los Angeles and the BMI Jazz Composers Workshop in NYC. 
Stern holds a Bachelor of Arts in Music History from the University of Toronto, and an ARCT in Composition from The Royal Conservatory of Music in Toronto where he studied with Samuel Dolin.   He is a certified Protools user, with graduate studies in mixing from Berklee,  and an advanced production certificate from Berklee. 
Stern and NYSO Records are embarking on the recording of the studio cast albums of three of his other musicals which toured nationally:Dream, and Scrooge and Young Dr Jekyll. Cast on these albums include such notables Robert Cuccioli, David Josefsberg, Autumn Hurlbert, Gabi Campo, Antonio Cipriano and The Moipei triplets to name a few.
READ on if you feel like....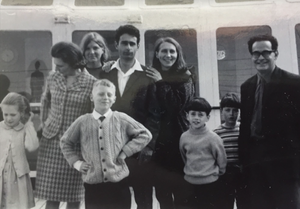 I love this picture, even though I can't really remember this all all. I'm the little boy in the striped t-shirt on the far right, kind of shyly there behind my father.  We are on the Empress of England traveling from Liverpool to Montreal. My older brother (by one year) is to my right then my Mother,  my big brother the tallest one in the center (he stayed in England) and our Au Pair Girl  (who came to Canada with us).  On the left are my Aunt  and  my cousins (they weren't on our voyage, just for the picture) My sister isn't in the picture.   
Here's the story, we are at Liverpool about to embark at a very posh restaurant (according to my big brother)  
Waiter: 'and you sir what would you like with your chips?' (translated French fries)  
Me: 'Ketchup'  
This hasn't changed.  
But there's a miracle or maybe more of the mystical power of fate that changes our personal histories and futures-how things happen, why they happen. But here's my father a Jewish-German immigrant who landed in England in the early 1930's, and my mother daughter of Estonian immigrants, living in Hull, living through wartime England, but they wouldn't meet until the 1950's.
I digress for a second, what a wonderful time this was recently at POWERSTATION in NYC with this group of awesome singers putting together the HUMBUG album. This show has been around for a while, and had its first incarnation in 1998 at the Lamb's Theater.  The awesome fellow on the far left in a red shirt is Carl Danielsen, and he music directed that Lamb's performance ( I was the VERY reluctant conductor) 
(Side bar:Not many people know this, but I have suffered panic attacks my whole life, and the thought of having an attack during conducting the show caused crazy anxiety)  
Anyway, also in this picture is Chris Gilroy, engineer, at the back 2nd from the right. He went on tour with HUMBUG back in it's touring days, and that was I think he told me that tour was his first pro NY gig.
Digression over....